Several killed in 'unprecedented' London tower blaze – with residents still trapped
Senior US congressman Steve Scalise has been shot at a baseball practice in northern Virginia.

A congressional aide said Mr Scalise, who rallies Republican votes in the House of Representatives, was hit during the training session in Alexandria attended by up to 25 politicians, plus their staff, ahead of an annual game.

Fellow Republican Mo Brooks, representative for Alabama, said the majority whip from Louisiana was on the ground with "a hip wound".

Video – Trump Monitoring Baseball Shooting (Wochit News)
Mr Brooks, who applied pressure to Mr Scalise's injury, said the 51-year-old "crawled into the outfield, leaving a trail of blood".
"He was dragging his body from the second base infield to the outfield to get away from the shooter while all this firing was going on," he said.
A law enforcement official, who was not authorised to speak by name, said the shooting was being regarded as a criminal act and not an act of terrorism.
The White House has announced that a scheduled public appearance by Donald Trump on Wednesday will be cancelled as a result of the shooting.
Congressman Steve Scalise is said to have been hit during a shooting at a baseball practice
Mr Trump was scheduled to appear at the Department of Labour to sign an executive order.
Congressional activity was also curtailed and police said they would put in place a "robust police presence".
Police confirmed the shooter was in custody.
Mr Brooks said other people were also shot, including two police officers.
Police chief Michael Brown said officers were on the scene within three minutes of receiving a call about the shooting at 7am (local time) and exchanged gunfire with the suspect.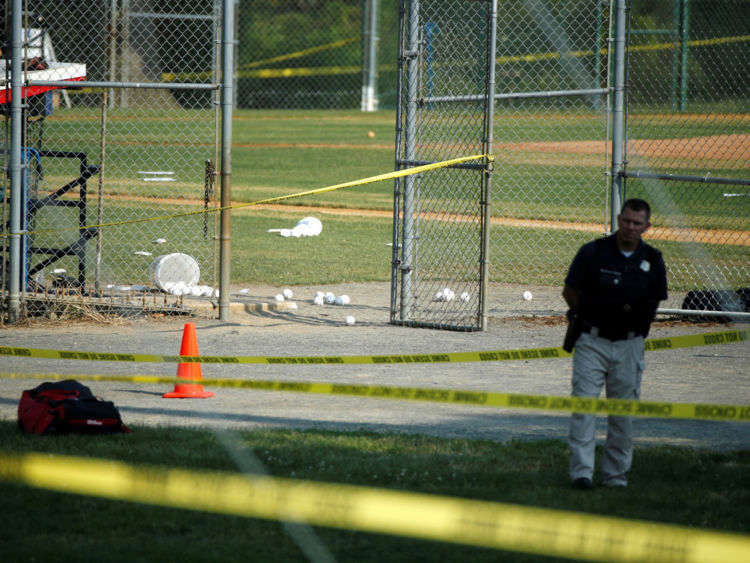 Politicians from both US parties have offered condolences following the incident
Republican Mike Bishop, from Michigan, said Mr Scalise was at second base when he was shot.
"I was looking right at him," he told Detroit radio station WWJ. "He was a sitting duck."
"We were doing batting practice," said Senator Jeff Flake of Arizona.
"All of a sudden we heard a very loud shot. The gunman was over by the third base dugout with a clear view of the field."
He said the gunman had "a rifle of some sort… a lot of ammo".
Mr Scalise is said to be in a stable condition at George Washington University Hospital. Five people in total were taken to hospital for treatment.
Texas representative Roger Williams also reported that a member of his staff was shot at the practice.
Witness Katie Filous said she heard more than 20 shots while walking her dogs near the playing field.
She said the shooting went on for "quite a while".
A police officer was hit by the gunman after he got out of a parked car and drew a handgun, according to Filous. She said the officer was then evacuated by helicopter.
Representative Brad Wenstrup told CBS News that he feared the violence could have been more serious.
"Fortunately secret service was here because Steve Scalise was here," he said. "If they had not been here it would have been far worse."
A law enforcement official said the FBI would be taking over the investigation. This is standard protocol in when federal officials are involved in attacks.
A statement issued by President Donald Trump said the situation was being monitored. "We are deeply saddened by this tragedy. Our thoughts and prayers are with the members of Congress, their staffs, Capitol Police, first responders, and all others affected," it said.
On Twitter, he described Mr Scalise as "a true friend and patriot" who was "badly injured but will fully recover".