BRIDGETOWN, Barbados, Sep. 13, CMC (Adapted) – The United Kingdom has deployed a team of specialists to the Caribbean to help mitigate the impact of impending storms threatening British Overseas territories.
According to Defence Secretary Gavin Williamson, 87 engineers, medics, maritime experts and other specialists have joined the regular crew of RFA Mounts Bay, which is the mobile hub of the British relief effort.
He added that approximately 1,000 personnel are deployed or being held at high-readiness for if further storms head towards the region.
"I want to assure everyone in our Overseas Territories that our Armed Forces have been pre-positioned in the region and are absolutely prepared to help," Williamson said. "We will be there to support during this hurricane season while still helping those whose lives were devastated by Irma and Maria to rebuild their lives and homes."
Last September, several homes were destroyed and infrastructure decimated when Hurricane Irma and Maria, two of the most powerful hurricanes for decades, hit the region back-to-back .
As well as being able to carry vital aid and equipment, RFA Mounts Bay will use the Royal Navy Wildcat helicopter on board to provide aerial support. RFA Mounts Bay is one of three Landing Ship Docks in the Royal Fleet Auxiliary
The Humanitarian Assistance and Disaster Relief (HADR) troop, consisting of Royal Engineers from the British Army and Royal Marines, have been training with their French counterparts in Martinique to ensure they are fully prepared.
This training is part of a six-month deployment to the region for hurricane season, while RFA Mounts Bay also carried out a significant HADR exercise in July.
Some islands are expected to be impacted by Tropical Storm Issac on Thursday, raising concerns about the physical damage it could wreak.
The RFA Mounts Bay visted Montserrat on Friday after the passage of Tropical Storm Isaac from 12 p.m. on Friday September 14. A release from the Governor's office had advised: "The officials from the ship will be meeting with local stakeholders and members of the MOD who are currently on island a part of the UK's Hurricane response efforts to the region. The media are 'united' (invited) to a huddle with officials at Little Bay playing field before the departure of Mounts Bay. This is scheduled from 14.30 to 15.00 pm.
From
RFA Mounts Bay

Retweets, following the visit

Mounts Bay tweeted:
The Montserrat JFHQ team carrying out a last minute check on the turtles at the sanctuary and the full Operational Liaison and Reconnaissance Team back in the UK ready for whatever we are asked to do next.
It was great to see the people of
#Montserrat
again today. A fleeting visit whilst MNTS is in the area on standby during this Core Hurricane Season. MNTS has now resumed our previous tasking however will remain in striking distance the OTs until November.
Below are some images of the visit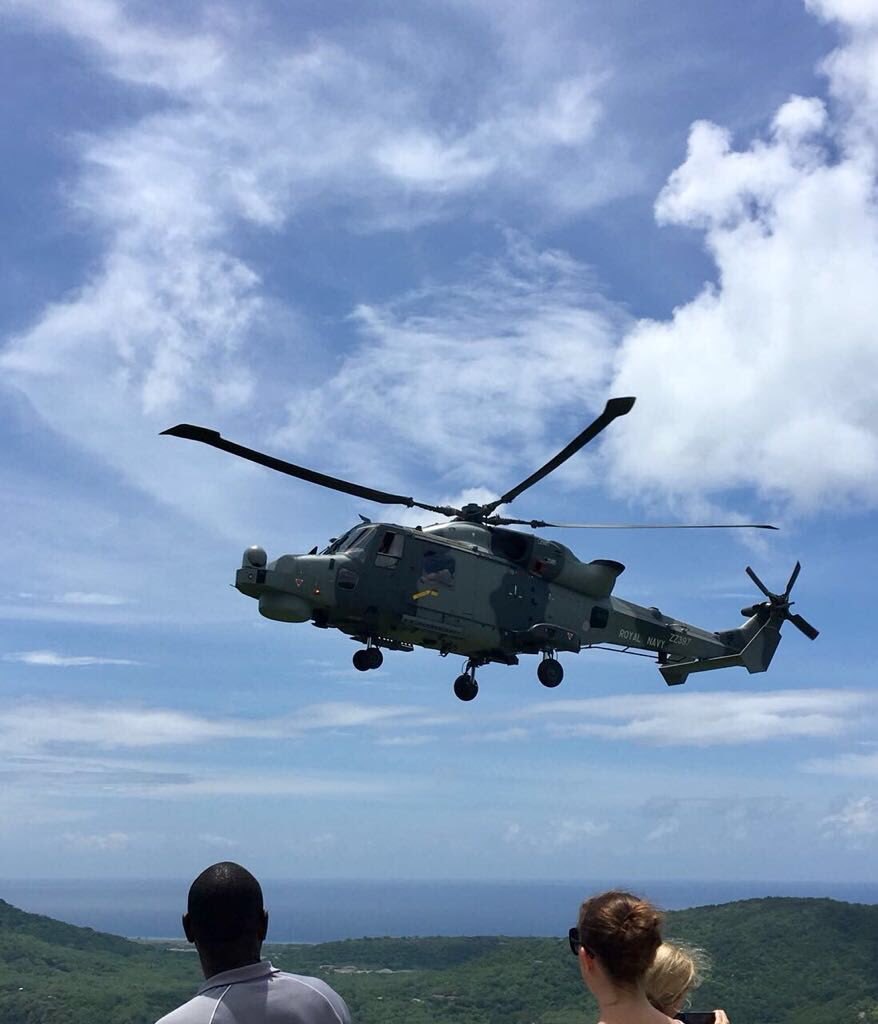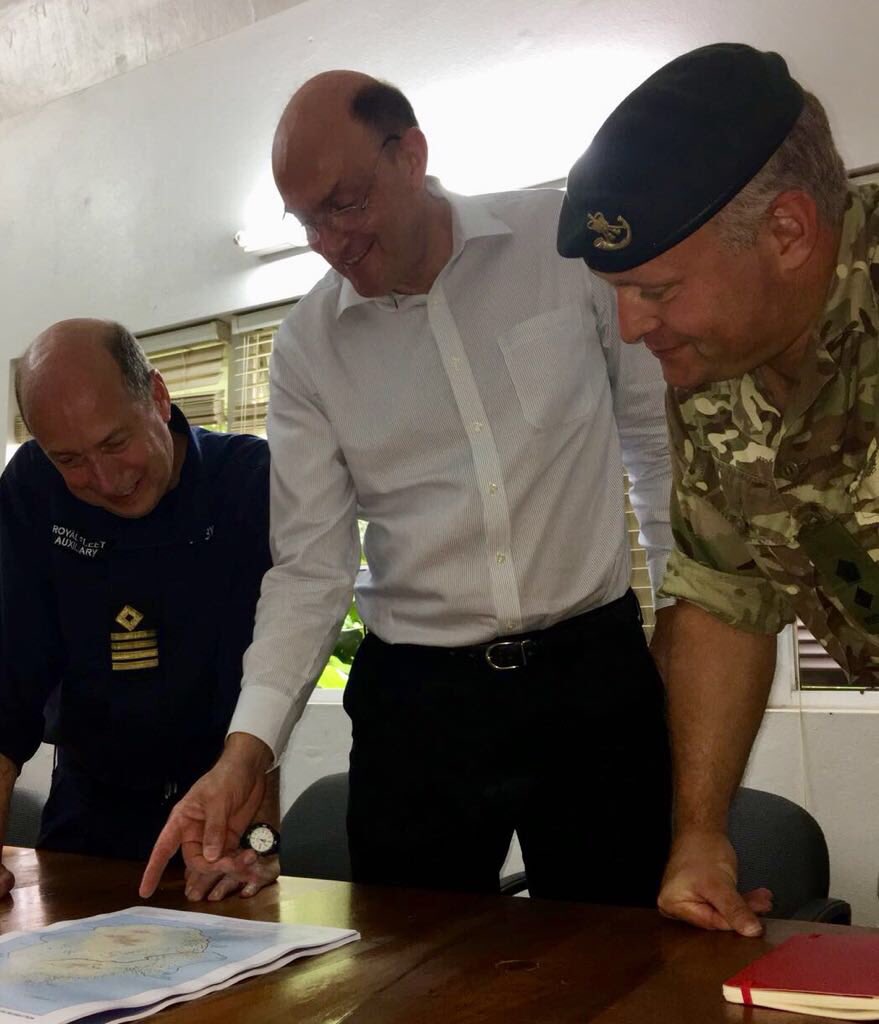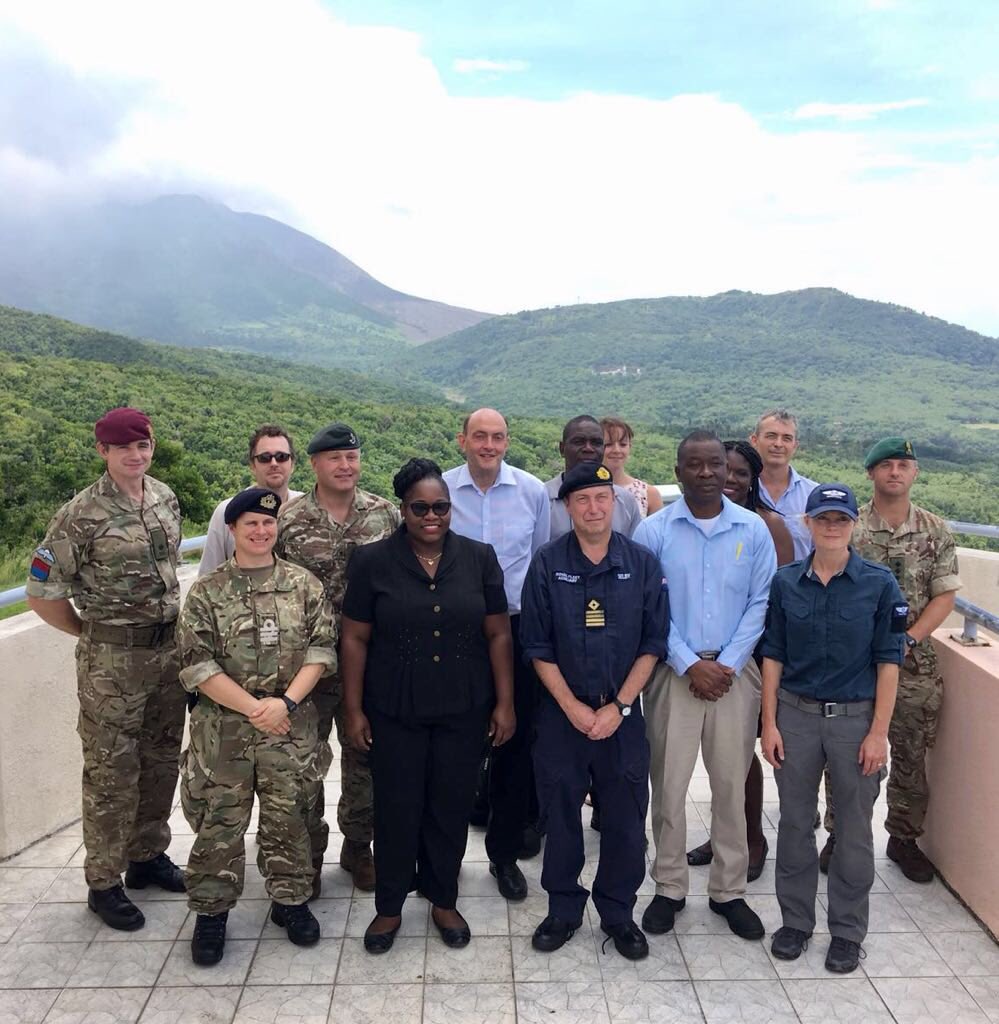 Captain and
from
visiting
Deputy Premier, Director of Disaster Management and other representatives of #Montserrat Goverment