By Meg Wagner and Brian Ries, CNN
Updated 1 min ago
1:29 p.m. ET, July 6, 2018
What happens if a parent is deported without his or her kid?
From CNN's Catherine Shoichet
A US judge has ordered the Trump administration to reunite the families it separated at the border — but does that include kids with parents who have already been deported?
In their latest court filing, the government asked the court for clarity about whether officials need to reunite children with with deported parents, noting that the judge's ruling did not specify whether deported parents should be included. If that is required, the filing said, officials would need more time "given the complexities involved in locating individuals who have been removed, determining whether they wish to be reunified with their child, and facilitating such a reunification outside of the United States."
How common is this scenario? Asked about what would happen in such cases Thursday, Health and Human Services Secretary Alex Azar said, "If any parent has been deported … without their child, that likely would be a scenario where the parent had actually asked that the child remain."
Immigration authorities are offering parents separated from their children at the border the option to be deported with or without their kids, according to a government document obtained by CNN this week.
Parents have also been offered the option to sign voluntary departure orders to speed up their cases even if they still have other legal options — and told they'll be reunited with their kids before they are deported if they do.
Immigrant advocacy groups say they're concerned that some parents may have been coerced or may have signed documents they didn't understand.
Governors from 6 states want answers to these 6 questions about separated children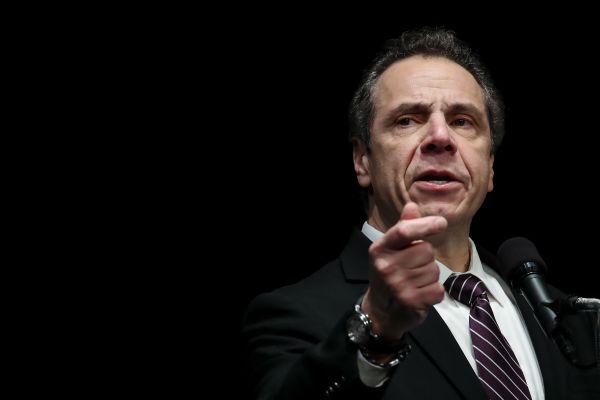 Governors from six states — New York, Washington, Connecticut, New Jersey, Pennsylvania, and Oregon — sent a letter Friday to Health and Human Services Secretary Alex Azar and Homeland Security Secretary Kristjen Nielsen "demanding answers concerning the reunification of immigrant families separated at the border," according to a press release from New York Gov. Andrew Cuomo's office.
The letter demands that the following six questions be answered:
How many separated migrant children in HHS custody have already been reunified?
Of those children who have already been reunified, how many have been placed with the parents they arrived with at the U.S. southern border?
If any were placed with a non-parent sponsor, what policies do your agencies intend to put in place to enable long-term reunification between children and their parents?
What steps is the federal government requiring separated parents to comply with before gaining back custody of their children?
What safeguards are being put in place to ensure the results of any DNA testing of parents and children are not used for any purpose other than familial verification?
How many of the separated migrant children in HHS custody have been provided with legal services and representation?
How many families have been reunited?
From CNN's Catherine Shoichet
The only firm statistics we've gotten from officials about reunions came from US Customs and Border Protection, which said last month that 522 children who were separated from their family's under the administration's "zero tolerance" policy had been reunited with their parents.
Important note: That number came before a judge ordered the Trump administration to reunite the families it separated at the border.
Federal agencies have repeatedly declined to respond to questions since the court ruling about how many families have been reunited.
34 min ago
What steps is the government taking to meet reunification deadlines?
From CNN's Catherine Shoichet
US District Judge Dana Sabraw last month ordered the Trump administration to reunite the families it separated at the border — and laid out a series of deadlines in his ruling.
By Friday, officials must make sure every separated parent has a way to contact their child. By July 10, children under 5 must be reunited with their parents. And by July 26, all children should be reunited with their parents.
In a court filing ahead of today's status hearing, the government outlined a series of steps it's taking to comply with the court order, including
DNA testing
Increased staffing
Expediting existing processes.
It's likely more details will come out during the hearing.
53 min ago
Mike Pence attacks Democrats for calls to abolish ICE
From CNN's Liz Landers
Vice President Mike Pence, speaking at the US Immigration and Customs Enforcement headquarters in DC, blamed Democrats for "reckless" language calling to abolish ICE.
"Senator Elizabeth Warren and Senator Kirsten Gillibrand and the Mayor of New York City have all already called for ICE's abolition," he told ICE officers gathered in a conference room here in DC.
"These spurious attacks by political leaders on ICE must stop," he said to some applause in the room.
What this is about: Gillibrand called for an end to ICE last month, and Warren called on the US replace it with "something that reflects our morality." New York Mayor Bill de Blasio told WNYC's Brian Lehrer, "ICE's time has come and gone."
This group says they were hung up on when they called looking for detention center information
From CNN's Nick Valencia
The executive director of a Texas non-profit group tells CNN that the organization has faced significant hurdles as they work to reunite parents with their children.
Jonathan Ryan, with the Refugee and Immigrant Center for Education and Legal Services (also known as RAICES), said representatives from his group have been hung up on when they call detention centers seeking information.
He added that he was turned away Thursday when he tried pay bonds for five women at a detention center.
"There are five women who should be free right now," Ryan told CNN. "We were rejected at the front desk because we didn't have bus tickets and airport tickets for them."
Ryan says he hopes to pay the bonds for the five women today.
A little about this group: RAICES is the intended recipient of several online fundraisers that's collecting money to help reunite the families, including one that has already raised more than $20 million.
2 hr 34 min ago
The government won't say exactly how many kids are separated from their families
From CNN's Clare Foran
The Department of Health and Human on Thursday estimated that there are fewer than 3,000 kids who may have been separated from their parents are in government custody.
But 10 days ago, the department reported that it had 2,047 children from separated families in its care.
During a Thursday call with reporters, HHS Secretary Alex Azar did not provide an exact number of children separated from families, but said "a review and comprehensive audit of multiple data sets" indicated that fewer than 3,000 total children — including an estimated 100 under the age of 5 — are in the care of Office of Refugee Resettlement-funded grantees.
Watch more:
They were separated on Mother's Day. 55 days later, this mom and daughter were reunited
From CNN's Ray Sanchez and Linh Tran
She wept as she embraced her 8-year-old daughter Thursday afternoon at Boston's Logan Airport, more than 2,500 miles from the Arizona detention center where Gonzalez-Garcia said an immigration agent wished her a "Happy Mother's Day" before the girl was taken from her without explanation.
"Forgive me for leaving you all alone," Gonzalez-Garcia cried. "Forgive me, my daughter. Forgive me."
"I was very nervous," Gonzalez-Garcia told CNN in an exclusive interview. "I was waiting for the moment she walked through that door. … She is all I have. She is my whole life. It's been so long."
4 hr 7 min ago
Government may ask court for extension on reunification deadlines
The Justice Department has informed a federal judge in San Diego that the administration is in compliance with stopping family separations, except under prescribed conditions (such as the safety of the child), as well as ensuring communication with separated parents and children by today.
There's a hearing in San Diego this afternoon, and the DOJ said the government may ask for extended deadlines. Officials laid out certain challenges in meeting the reunification deadlines of July 10 for children under age 5 and July 26 for children over 5.
In the court filing, the government says in order to confirm parentage, the department of Health and Human Services is using DNA testing which can take time, and asks if the court will permit reunifications outside of the ordered timelines "in cases where parentage cannot be confirmed quickly." The government says it is willing to propose an alternative timeline.
Additionally, HHS must determine that a "parent is not 'unfit or presents a danger to the child,'' which means HHS must also have "an independent finding that the individual has not engaged in any activity that would indicate a potential risk to the child," before reunification. This process can be slowed down if the court order is interpreted to mean ICE must release parents from detention by compliance deadlines, and says "such release might slow reunification."
Learn more about the DNA testing in the video below:
The US government is supposed to make sure separated families have contact today
From CNN's Emanuella Grinberg and Nick Valencia
Today is the first of three major deadlines for US officials working to reunited families that were separated at the border under President Trump's "zero-tolerance" policy.
By July 6, officials must make sure every separated parent has a way to contact their child, US District Judge Dana Sabraw said in a June ruling.
Then, by July 10, officials must reunify all parents with their children under the age of 5.
They must reunify parents with children 5 and older by July 26.
So how is all of this working?
For many parents of separated families, one phone call is not enough, and a second one seems like a distant hope. Making contact does not necessarily bring clarity to a family's situation, lawyers say. Sometimes, it can add to the confusion and deepen a parent's despair.
Six lawyers working with dozens of detained parents have told CNN their clients had at least one phone call with their children. Most times, those phone calls last less than five minutes, said human rights lawyer Sara E. Dill, who is working with detained parents at Port Isabel Service Detention Center in Los Fresnos, Texas.