The Guardian
Airport still closed after what police describe as deliberate attempt to disrupt flights
Matthew Weaver, Damien Gayle , Patrick Greenfield and Frances Perraudin
Thu 20 Dec 2018 17.02 GMT First published on Wed 19 Dec 2018 23.16 GMT

More UK news videos
'The hostile environment nearly killed me': support the Guardian charity appeal – video

First flights leave Gatwick after drone disruption – video report

'I'll ask God to intervene': the Christian volunteers doing police work in Reading

Cornish coastguards refloat grounded Russian cargo ship – video report
First flights leave Gatwick after drone disruption – video report
The army has been called in to help with the ongoing crisis at Gatwick airport, where drones flying near the runway have kept planes grounded for more than 24 hours.
The airport has been closed since Wednesday night, when the devices were repeatedly flown over the airfield in what police and the airport described as a deliberate attempt to disrupt flights.
Tens of thousands of travellers have been affected, with 110,000 passengers on 760 flights due to fly on Thursday. People camped out overnight at Gatwick, waiting for news of whether the airport would reopen on Friday.
At around 9:30pm on Thursday Gatwick's chief operating officer Chris Woodroofe said the airport would be reviewing the situation overnight to see "whether there is any potential to open tomorrow" but they are "working up contingency plans all the way through to no flights tomorrow."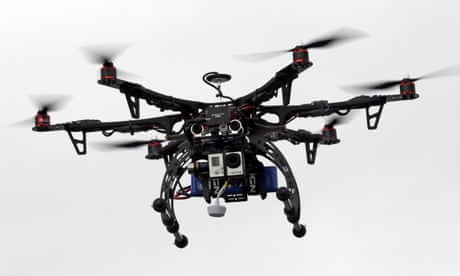 Woodroofe said the situation remained "fluid", given the drone operator had not yet been found. He said the airport is expected to be closed for the "foreseeable future" while the hunt for the drone operator continues.
The airport's advice is that those due to travel on Friday should check with their airline before arriving at the airport.
The defence secretary, Gavin Williamson, told Sky News Sussex police had requested support from the armed forces. "We will be deploying the armed forces to give them the help that they need to be able to deal with the situation of the drones at Gatwick airport," he said. Advertisement
Williamson added that he could not say how the armed forces would help but said: "The armed forces have a range of unique capabilities and this isn't something we would usually deploy but we are there to assist and do everything we can so that they are in a position to open the airport at the earliest opportunity."
Flights were suspended at Gatwick just after 9pm on Wednesday, when two drones were spotted flying near the runway. The runway briefly reopened at 03.01 on Thursday morning but closed 45 minutes later after a further drone sighting. There was another sighting around midday.
Speaking at a press conference on Thursday afternoon, Theresa May said: "I feel for all those passengers whose travel plans have been disrupted by this drone activity and the action that has had to be taken in response to it. At this particular time of year this is particularly difficult for people.
"We have already passed legislation in relation to the use of drones. As it has been made clear, the activity we have seen is illegal and those who are caught endangering aircraft can face up to five years in prison. And we're consulting on further aspects of this, including further police powers.
"We will continue to work with the Gatwick authorities in order to bring this to a close such that people will be able to get on to the travel that they were expecting over the Christmas."
Woodroofe told BBC News: "There are 110,000 passengers due to fly today, and the vast majority of those will see cancellations and disruption. We have had within the last hour another drone sighting so at this stage we are not open and I cannot tell you what time we will open.
"It was on the airport, seen by the police and corroborated. So having seen that drone that close to the runway it was unsafe to reopen.
"Realistically if we do reopen today, what the airlines will seek to do is deal with the passengers who are on site and to prepare for an operation tomorrow morning where we repatriate passengers who are in the wrong place. It's realistically going to take several days to recover."
Earlier, he said the drones could not be shot down because of the risk posed by stray bullets. Officers from Surrey and Sussex police forces have been scouring the perimeter to try to catch the operators of two drones. Sussex police said there was no indication that the ongoing incident was terrorism-related.
Updating the House of Lords on events, the transport minister Elizabeth Sugg revealed the scale of the response. "Sussex police are in the lead and have officers on the ground. They are doing everything they can to locate drone and its operators," she said.
"All relevant parts of government including the Department for Transport, Home Office and the Ministry of Defence, are involved in the response."
Justin Burtenshaw, Gatwick's policing commander who was in charge of trying to catch the operators of the drones, told the BBC it was a painstaking process because the bigger the drone the further away the operator could be. "Each time we believe we get close to the operator, the drone disappears," he said.
"When we look to reopen the airfield, the drone reappears, so I'm absolutely convinced it is a deliberate act to disrupt Gatwick airport."
Some people reported being left on aircraft for several hours while they waited to find out what was going on. Gatwick advised anyone flying from the airport, or collecting someone, to check the status of their flight. EasyJet advised its passengers not to travel to the airport if their flights had been cancelled.
Arthur Serbejs, 22, and Domante Balciuniate, 21, factory workers from Hastings, sat on the floor by a prayer room on Thursday morning, approaching their 16th hour of waiting for a flight to Barcelona.
"We came about 6pm yesterday, and we're going to be here until like 7pm," Serbejs said. "At 9pm yesterday we were on the plane for four hours – they turned the lights off and everything like it was going to take off."
"But we were still sitting there," Balciuniate added. Serbejs said he had fallen asleep while the plane sat on the airport apron, hoping to wake up in Spain, "and I woke up and we hadn't moved".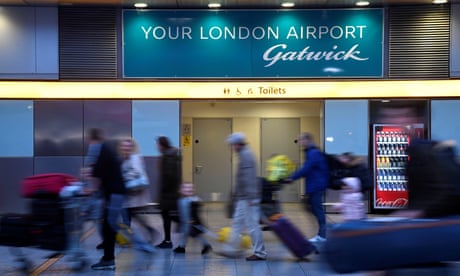 Eventually they were taken off the flight, and offered a hotel in Brighton, which they declined as they live nearby. They were told they would get an email with a ticket for another flight, but none came. "We stood in line for three hours for a 30-second conversation saying: 'Your flight has already been transferred hours ago,' but we didn't know about it," Serbejs said.
"It's crazy, it's my worst airport experience."
"We don't even expect to go to Barcelona any more," Balciuniate said. "Maybe there's another drone up there – but we have hope. There's a prayer room over there, we were thinking about going."
Mamosta Abdulla said he was on an Iraq-bound flight on Wednesday evening before getting stuck on the tarmac for four hours. He would miss his father's memorial service, he said.
"We got here at 6pm and should have flown at 9.10pm, but we were stuck four hours on the plane with a crying baby, the child was disabled, and everyone was sweating because it was so hot in there," he said.
Passengers were given a voucher for food, he added, but were left to sleep "in a freezing place on uncomfortable chairs".
"We are in Iraq with bombs going off nearby and the plane still lands. But here some drones have shut down the airport."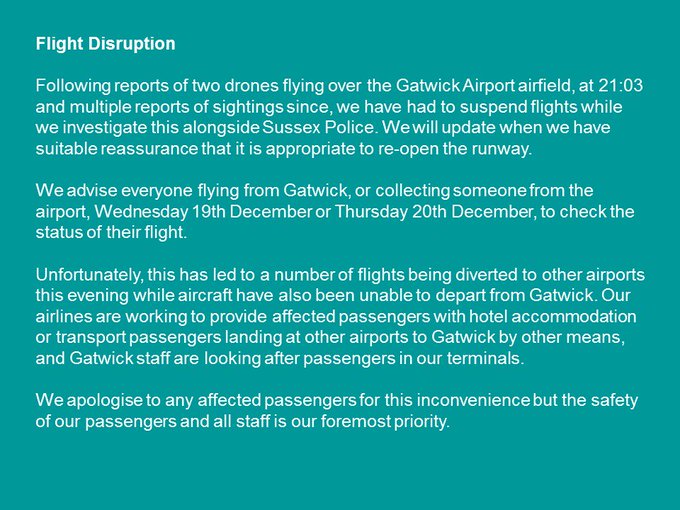 There was criticism from opposition parties as well as unions representing pilots and engineers that the rules on drones needed to be toughened up and enforced. The British Airline Pilots Association said the government should consider creating a larger no-fly zone around airports.
Labour said the government has been too slow to address safety concerns about drones and should fast-track laws to protect against their misuse and create a drone exclusion zone around airports. The Liberal Democrats also called for more stringent rules.
Lady Sugg said: "We absolutely need to make sure that we introduce new laws to ensure that drones are used safely and responsibly. Earlier this year we brought in a law that makes it illegal to fly within a kilometre of an airport and above 400ft.
"We are also introducing a registration system, which will include a mandatory safety check before you are able to fly your drone."
She added that research was being carried out into counter-drone technology.
An airport spokeswoman said that airlines were working to provide affected passengers with hotel accommodation, or transport for those whose flights were diverted.
Luton, Heathrow, Stansted and Manchester were among the airports that accepted diverted flights. Passengers were also sent as far as Amsterdam and Paris.
• The graphic in this article was amended on 21 December 2018 because an earlier version said drones must not fly within 50 metres of crowds and built up areas. This has been corrected to say 150 metres.