by Alain Tolhurst @Alain_Tolhurst
After this week's "code red" climate report by the Intergovernmental Panel on Climate Change (IPCC) warned the planet is warming at a more alarming rate than expected, MPs from both major parties fear recent flooding is set to get much worse and are calling for more to be done at both a local and global scale.
The report forecasts rising sea levels, extreme heatwaves and droughts with only urgent and deep cuts in carbon emissions able to reverse the rising temperatures.
In Europe, it predicts "extreme precipitation and pluvial flooding are projected to increase at global warming levels exceeding 1.5C in all regions except the Mediterranean."
The IPCC also warned of more rainfall during winter and highlighted threats to cities due to the "urban heat island effect", as warmer air can hold more water.
PoliticsHome spoke to Labour's Stella Creasy, whose east London constituency of Walthamstow was hammered by flash flooding this summer, and the Conservative MP Mark Garnier, whose Wyre Forest seat in Worcestershire contains the town of Bewdley, which has repeatedly been devastated by the River Severn bursting its banks after prolonged rainfall.
Two very different areas, facing very different versions of the same problem, and both are equally concerned about what the future holds for their areas in light of the IPCC report.
"We need to radically reform how we respond to extreme weather events in local communities," Creasy said.
"We don't have that level of logistical organisation, because this is new, but it is not going to go away."
Creasy told us she has constituents "who are actually terrified of the weather because if you see the predicted rainfall you don't know what the impact will be". Some have said they avoid watching the weather reports altogether in case there's more rain predicted.
Walthamstow was one of a number of London neighbourhoods hit by storms last month dumping several weeks' worth of rain in a matter of hours, flooding homes and Tube stations, closing roads and even leading to one hospital closing to admissions. 
"We have underlying issues with our infrastructure," Creasy explains. "There are certain roads and places where it's very clear that work has needed to have taken place to improve drainage.
"But two weeks ago we had over 100 roads flooded, that isn't one or two problems from running an antiquated infrastructure system, but it's a whole new ballgame of water and variation in weather, but we are going to have to cope with it."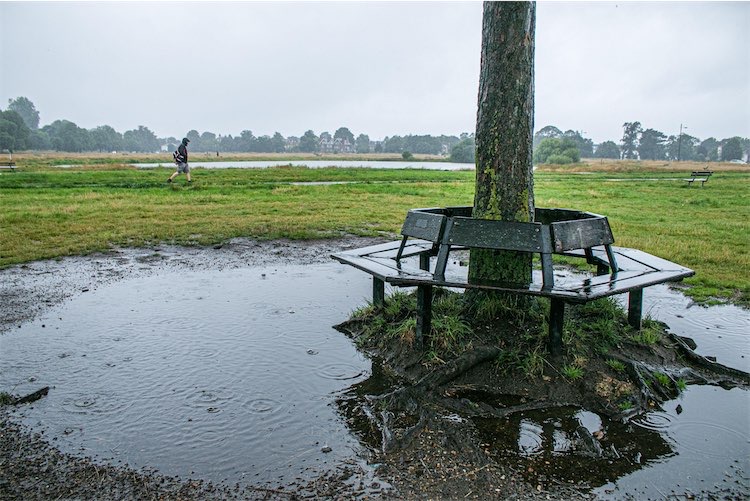 Creasy wants to see an end to the privatisation of water companies and a move to the mutualisation model seen in Germany, where the firms are not for profit and invest in its infrastructure.
"I think the public has to be part of this, because it's not just about running a service, this is about radically reorganising services to cope with the fact that we're going to get changeable weather," she added.
Creasy also highlighted insurance issues, with a lack of flood cover leaving people to foot the bill for the "absolute devastation" left behind.
"I've got the 10th-highest level of child poverty in the country in Walthamstow," she said. "That is driven by housing so this is an equality issue for me."
She fears "the least equipped in our communities will suffer the most unless there is collective action".
Flooding may be a recent phenomenon for Creasy's London constituents, but it is a depressingly more recurrent one for Garnier's in Worcestershire.
In the past three years Bewdley has faced three consecutive "once in a hundred years" flooding events, and while millions of pounds have already been spent on protecting the area, homes and livelihoods have been destroyed. Boris Johnson was heckled by residents as a "traitor" when he visited the town in 2020.
"Through the millennia we've been changing the way we live due to our circumstances, and the problem with Bewdley is it was built hundreds of years ago and much of it can't cope with what's been happening," Garnier explained.
"At the end of the day, you're going to have to come up with ways of fighting back. The danger towns like Bewdley and other places face because of where they are, and the environment is changing around it, is you need to make a decision about what to do about that."
Last month the government announced £6.2million would be spent replacing the temporary barriers at Beales Corner with a more permanent solution as part of an ongoing record £5.2billion investment between 2021-27, which will create around 2,000 new flood and coastal defences to better protect 336,000 properties across England.
Garnier said the current protections have to be put up well in advance of a potential flood caused by a build-up of water upstream, meaning locals would be worried just by the forecast of storms, and massive disruption would be created even if the rain never came.
He welcomes the investment but says more needs to be done so areas like his can cope with an increase in flooding as the planet continues to warm.
"Ultimately I think most people will come to the conclusion that you do not abandon these towns, you protect them," he added.
The former minister's Tory party has committed to ambitious targets in cutting emissions ahead of hosting the COP26 global climate conference in November, but is facing a backlash from some of its own MPs with pushes to scrap petrol and diesel cars and switch gas boilers for more eco-friendly heat pumps.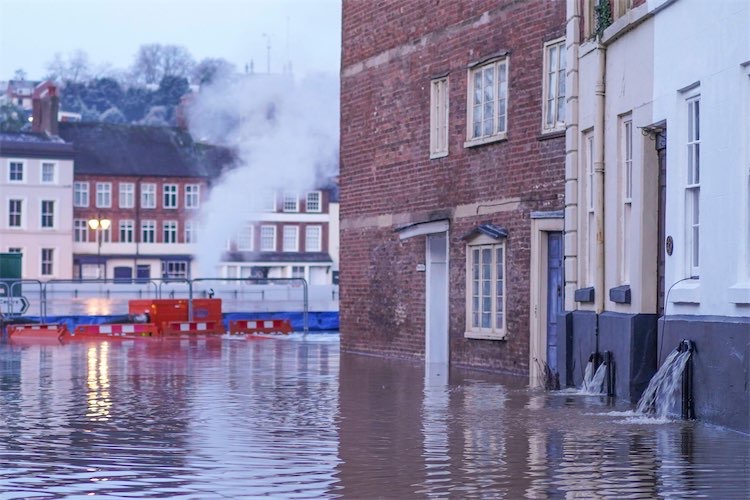 Garnier, who met with local Extinction Rebellion climate campaigners the day before the IPCC report came out, said he understands some of his colleagues' concerns.
"I think everybody's concerned about climate change but I think we have got a bit of a challenge in terms of how do we bring people along on this journey and how do we make this journey a sustainable one", he said.
"You can come up with these ideas but if you're going to take somebody's job away from them, they've just been forced to vote against that."
He said the government must "work out a way where we can change the economy at a pace that is quick enough to deal with this problem, but also a place where people can understand how their lives will change and where they're comfortable with it".
"Ultimately the electorate will determine the pace at which we move on this, but I do think everybody collectively is wanting us to move quicker on that," Garnier added.
Creasy is less equivocal: "We need to move much further and faster than we have been about reducing targets because that [IPCC] report is just terrifying."
"We're not being straight with the public about what the choices are that we're going to face, and the longer we leave it, the harder it's going to be," she continued.
"I think if you treat the public as children, don't be surprised if they act like toddlers. Treat the public as grownups and you involve them and you engage them in the proper conversation.
"I would say that to the campaigners too. This is not about frightening people, this is about presenting people with a plan, and the choices that they can make and how quickly we can get there.
Creasy said she had "every confidence" that the British public were supportive of radical action on climate change.
"They are not daft, and they can see the benefits to themselves, they can see the benefits to their kids, and they can see the benefits to their communities," she said.
"That's the conversation that should be taking place, not one that either downplays what is happening, or suggests that it's all to do with, you know, some kind of dinner policy agenda about greening the countryside."