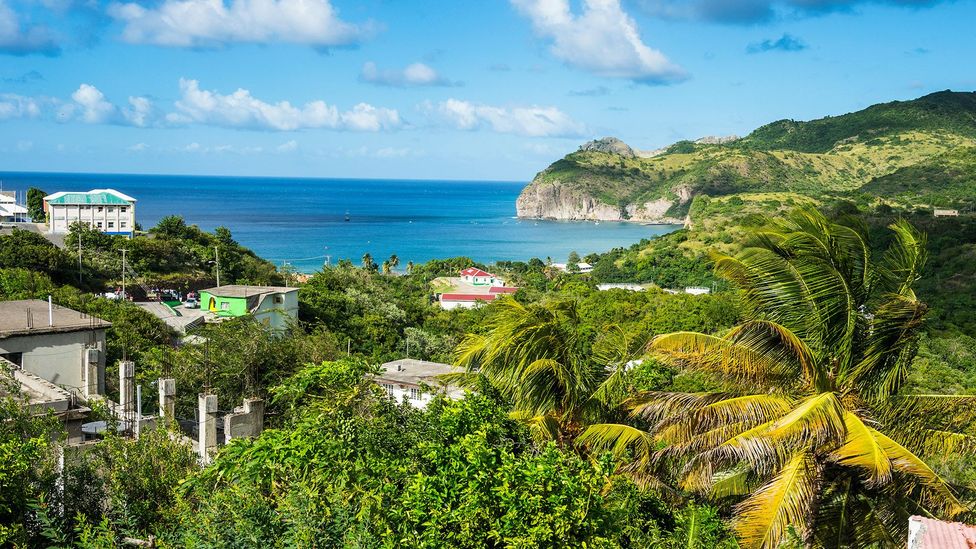 By William Fleeson 25th March, 2022
The British overseas territory of Montserrat is joining the trend of island states pushing to attract remote workers to come and stay awhile.
Compared with the rest of the world, the Covid-19 pandemic has given Montserrat a pass. A British overseas territory, the volcanic eastern Caribbean island has suffered negligible rates of Covid, with fewer than 200 infections and just two deaths among its population of 5,000 people, known as Montserratians.
Montserrat's government now wants to turn its containment success into a tourist draw through a year-long digital nomad visa. After a lockdown in 2021, its tourism-dependent economy is joining the trend of island states pushing to attract remote workers to come and stay a while as Covid persists elsewhere.
Launched in April 2021, the programme, called the Montserrat Remote Worker Stamp, offers a "best of both worlds" approach that balances nature and connectivity, said Rosetta West-Gerald, Montserrat's new director of tourism.
Longer-term, she said, the island hopes the scheme will foster extended relationships – and a deeper economic impact.
"Beyond 2022, it is our hope that some of the remote workers will fall in love with the island and be converted into homeowners or residential visitors," West-Gerald said.
Why should I go now?
As Covid rates begin to wane globally, the island's appeal has only grown. At its launch last year, the visa set itself apart by requiring a minimum stay of two months, rather than a maximum duration found in similar schemes. Then in early 2022, the two-month minimum was scrapped. Digital nomads can stay for a year or a week, as they prefer.
That flexibility perhaps stems from a need to boost visits by all possible means. "[During the pandemic] the closure of the island drastically affected the economy," said Clover Lea, who runs the Gingerbread Hill bed and breakfast in the village of St Peter's. Her reservations fell by 80%.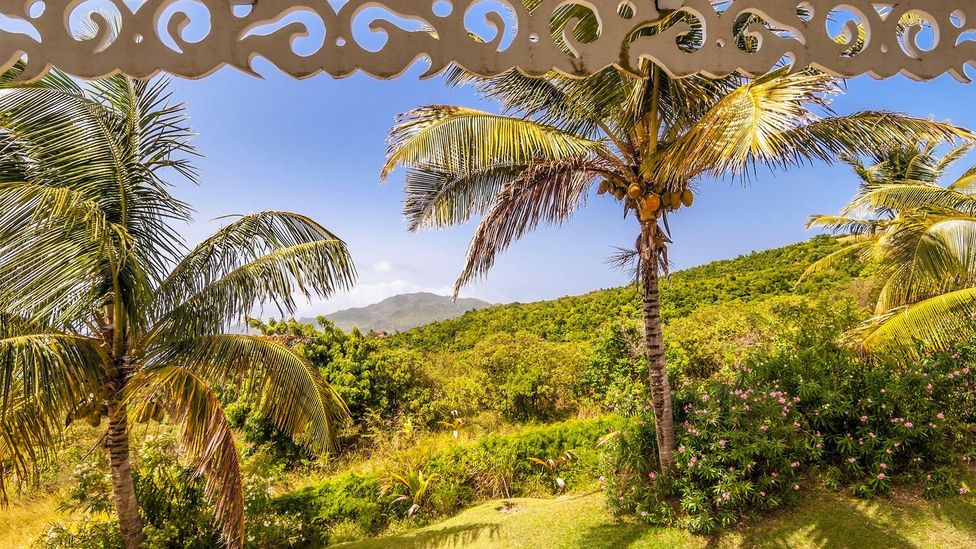 Others are more sceptical of the digital nomad scheme so far. "I don't know if the remote worker thing has really had much of an effect," said Margaret Wilson, proprietor of Olveston House, a hotel. Yet she recognises the island's appeal, even if the scheme remains a work in progress.
"Why visit Montserrat now? Don't ask me, I'm biased," Wilson said. "To me, it's paradise."
Apart from pandemic-related changes, Montserrat's appeal is rooted in history, which may be disappearing as hyper-development and overtourism transform other Caribbean islands. Its best-known qualities include its famous friendliness, an outsized musical tradition and pride in its Irish heritage.
In the 17th and 18th Centuries, thousands of Irish Catholics sought opportunity beyond persecution in Britain and colonial America, betting their futures on Montserrat's export-focused – and slave-based – economy. Today's Montserratians express pride in their combined Irish and African family trees. Montserrat is the only location outside Ireland to make St Patrick's Day a national holiday. The festival, which also marks the anniversary of a 1768 slave rebellion, has become a key touchpoint of Montserratian culture and identity.
At the festival's heart are culinary standouts like goat water (actually a stew), Montserrat's national dish. It's a reflection of the island's combined African and Irish ancestries: a riff on Irish goat stew with a mix of old-world African spices like Scotch bonnet chilli powder – topped with a decidedly new-world shot of rum. Since the recipe calls for hours of simmering, goat water is usually prepared only for special occasions.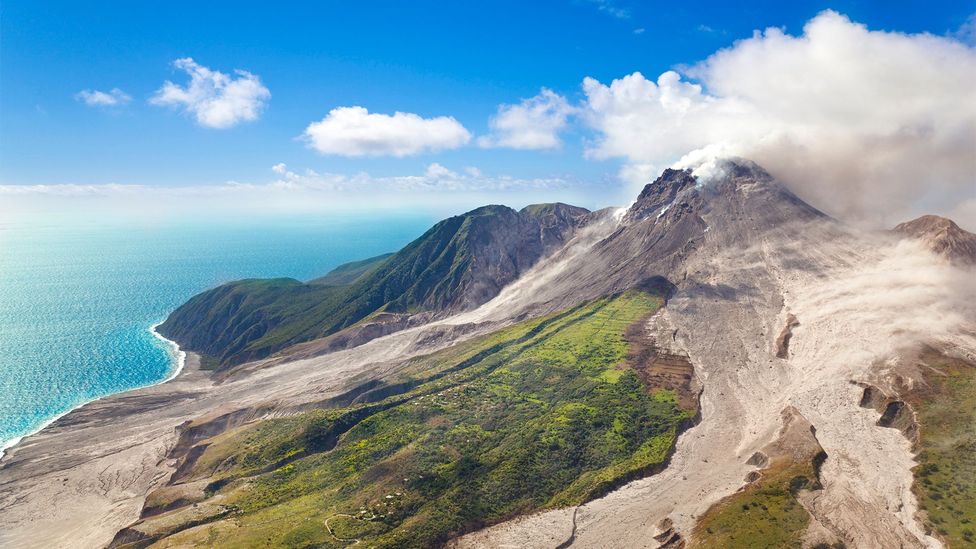 In 1995, blasts from the Soufrière Hills volcano covered Montserrat's southern half in ash and soot (Credit: MichaelUtech/Getty Images)
The island is in many ways still recovering from a more recent historical shock. Jolted by a series of volcanic eruptions that began in 1995, the blasts from the Soufrière Hills volcano covered the island's southern half in ash and soot. Thousands of islanders fled to safety, many relocating to the UK. Today, the island's population is half what it was pre-eruption.
This is the Caribbean like it used to be
But the same reality – the island's sparse population – makes Montserrat a rare crowds-free Caribbean locale.
"This is the Caribbean like it used to be," Lea said.
Travel with no trace
For so small an island, Montserrat's menu for sustainable tourism runs long. In Centre Hills, a forest reserve unscathed by the volcanic blasts, visitors can hike up to achieve cinematic views of the island and surrounding ocean. In February, the British government announced plans for a £35m "climate-resilient" port at Little Bay, on the island's north-west side.
For families with children, the Montserrat National Trust in October launched the EcoPlay Park, an outdoor space and learning centre within the island's botanical garden. The site includes playgrounds and an "orchid wall" describing the endemic Monserrat orchid. EcoPlay "expresses who we are and where we live", according to Yasmin Shariff, an architect involved in the project.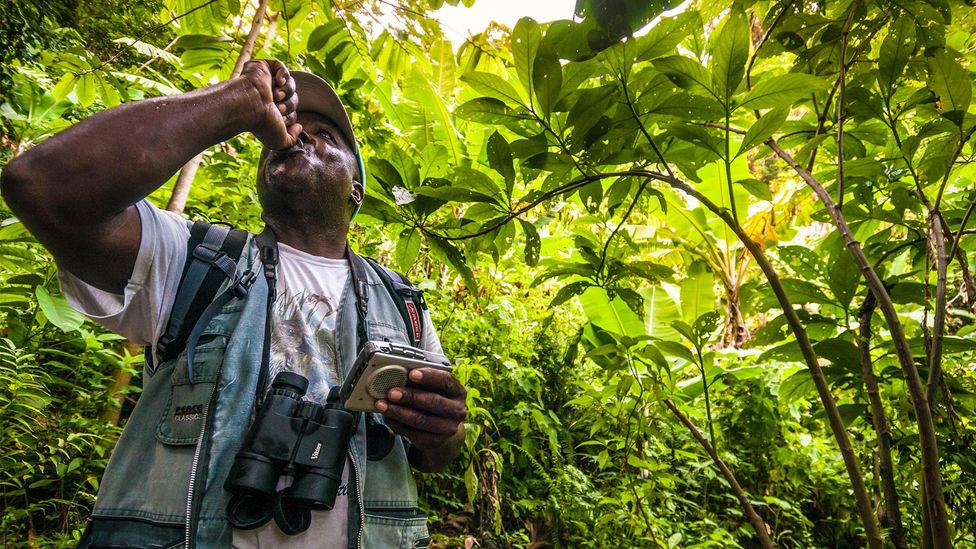 The Oriole Walkway trail is Montserrat's most popular hike (Credit: Hemis/Alamy)
Kids of all ages might get enthusiastic about Montserrat's diverse animal life. The Oriole Walkway trail, named after the yellow-breasted national bird, is Montserrat's most popular hike. Animal watchers can scout for other exotic fauna: the galliwasp, a species of lizard; and the "mountain chicken" – actually a frog, whose name suggests its size (among the world's largest) and its past use as a food source by Montserrat's mountain populations.
In the near future, the island will be rolling out a tourist-focused environmental programme that will showcase its highland ecosystems, birdwatching and volcano viewing. The programme will allow visitors to learn about Montserrat's full breadth of natural diversity, West-Gerald said.
Know before you go
As many pandemic precautions remain in place, the inter-island ferry service for Monserrat, nearby Antigua and Barbuda and other islands is suspended. Travellers can fly via Antigua before an onward 15-minute hop to Montserrat. Private charters can be arranged at FlyMontserrat.com.
Fully vaccinated visitors, while allowed to visit the island, are required to quarantine for five days, with a mandatory test required before being allowed to cease isolation. (Montserrat previously required a quarantine of 10 days.)
Many accommodations are offering reduced rates and added services to assist quarantining guests. Gingerbread Hill has begun to do shopping, grocery pick-up and other errands for their guests. Olveston House – once owned by Beatles record producer George Martin – offers similar services.
—
Join more than three million BBC Travel fans by liking us on Facebook, or follow us on Twitter and Instagram.
If you liked this story, sign up for the weekly bbc.com features newsletter called "The Essential List". A handpicked selection of stories from BBC Future, Culture, Worklife and Travel, delivered to your inbox every Friday.