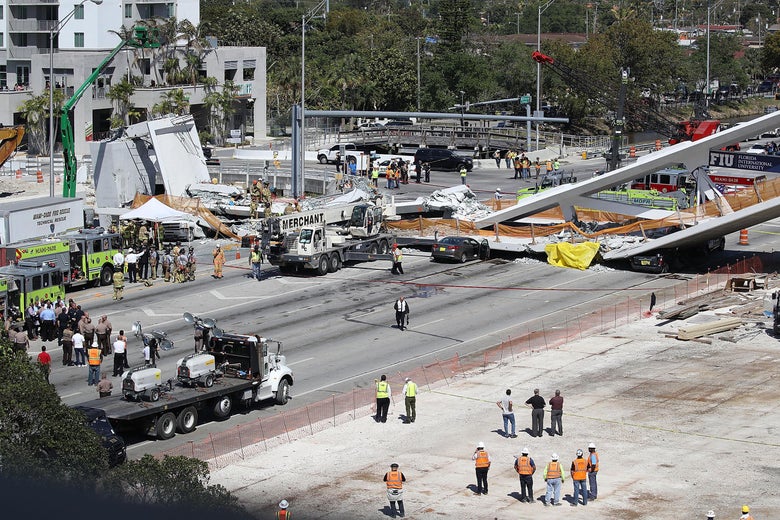 This post has been updated with the latest news developments.
An unfinished pedestrian bridge in Miami collapsed just before 2 p.m. Thursday, killing at least four people and crushing others in their cars underneath. The Miami-Dade County fire chief also confirmed that nine people were taken to the hospital, according to CNN.
The cause of the collapse is unclear. The bridge was built using a new technique developed at nearby Florida International University that was supposed to minimize traffic disruptions and reduce risks to workers, commuters, and pedestrians. The span of bridge was built along the side of the road while support towers were placed on either side. Construction had just passed a major milestone: Over several hours Saturday morning, the 950-ton span was elevated, rotated 90 degrees, and lowered onto its permanent position between the two towers.
The $14.2 million bridge, scheduled for completion early next year, was intended to connect the campus of Florida International University with the suburb of Sweetwater, where a large population of students live. In a Twitter post after the section's completion, the university celebrated the project with a video and called the structure the first of its kind.
The South Miami–based Munilla Construction Management, founded in 1983, issued a statement on its Facebook page, promising an investigation into what went wrong. FIGG Bridge Engineers, a Tallahassee-based engineering firm founded 40 years ago, was also a partner on the project.