TMR: PM May will redeem trust and decency…
The Guaradian
Minister criticises Home Office and promises cases will be resolved in two weeks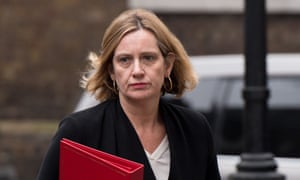 The British home secretary has delivered an unprecedented apology for the "appalling" actions of her own department towards Windrush-era citizens, acknowledging that the Home Office had "lost sight of individuals" and become "too concerned with policy".
In the face of mounting criticism, Amber Rudd announced the creation of a new Home Office team, staffed by 20 officials, dedicated to ensuring that Commonwealth-born long-term UK residents will no longer find themselves classified as illegal immigrants. She promised that cases would be resolved within two weeks and application fees would be waived.
She made a significant criticism of her own department, adding: "I am concerned that the Home Office has become too concerned with policy and strategy and sometimes loses sight of the individual. This is about individuals, and we have heard the individual stories, some of which have been terrible to hear."
She said she was very sorry for the anxiety suffered by numerous people who arrived in the UK as children after newly tightened immigration laws required them to prove that they were here legally.
The Guardian has been documenting a growing scandal over the past five months affecting an unknown number of people who arrived in the UK as children from the Caribbean as children (often on parents' or siblings' passports) but were never formally naturalised or hadn't applied for a British passport.
A colleague of Rudd's, immigration minister Caroline Nokes, earlier appeared to suggest that people had been deported in error back to countries they left as children for not having the right documents. Rudd said she was unable to confirm if this was the case, and had asked Caribbean diplomats if they were aware of mistaken deportations.
Rudd's announcement came after the prime minister was forced into an embarrassing U-turn over Downing Street's refusal to schedule a meeting requested by 12 Caribbean heads of government to discuss the problem at a meeting of the Commonwealth heads of government (Chogm), which opened in London on Monday.
The rebuffal was described as "most unfortunate" by the Barbados high commissioner, just before the meeting began. Within hours, Theresa May's spokesman announced that she had agreed to set up a meeting after all. He added that the prime minister "deeply values" the contribution the Windrush generation have made, but the outrage over the initial refusal overshadowed the opening of the conference.
The decision to back down on the refusal to schedule a Chogm meeting on the issue followed rising anger from politicians of all parties. Over 140 MPs from all parties sent a letter to May, expressing concern about the incorrect classification of many Commonwealth-born, long-term British as "illegal immigrants" and calling on her to find a "swift resolution of this growing crisis".
Communities secretary Sajid Javid said he was "deeply concerned" about the Windrush scandal, adding "this should not happen to people who have been longstanding pillars of our community."
Rudd's announcement came in response to an urgent question called by Labour's David Lammy who said it was "inhumane and cruel" for so many in the Windrush generation "to have suffered so long in this condition".
"This is a day of national shame and it has come about because of a hostile environment policy that was begun under her prime minister. Let us call it as it is. If you lay down with dogs, you get fleas, and that is what has happened with this far-right rhetoric in this country," he said.
"Can she [Rudd] tell the house how many have been detained as prisoners in their own country? Can she tell us how many have been denied healthcare under the National Health Service, how many have been denied pensions and how many have lost their jobs?" he asked.
She also called on the government to apologise to those people wrongfully detained. Neither Paulette Wilson, 61 nor Anthony Bryan, 60, who were both told they were illegal immigrants and detained in immigration removal centres – despite each having lived and worked in this country for over half a century – have had any apology from the Home Office for their treatment.
Until now individuals have struggled to provide the evidence required by the Home Office to resolve their status problems – often unable to submit the recommended four pieces of documentary evidence for every year spent in the UK, not least because relatives have died, schools have shut down and records have been destroyed.
Decades of national insurance records have not been deemed sufficient proof, but Rudd said that would change, and Home Office staff would attempt to work with other departments to source paperwork.
"The team will be tasked with helping these applicants demonstrate they are entitled to live in the UK and will be tasked with resolving cases within two weeks of the evidence being provided. They will work across government to help these applicants prove they have been working and living in the UK," she said.
Satbir Singh, the CEO of the Joint Council for the Welfare of Immigrants, welcomed the new team. "But that on its own is not enough: the Home Office must commit to a system which treats affected people with fairness, humanity and flexibility," he added.
"In the past few days we've witnessed the culmination of years of government policy explicitly designed to turn us into a hostile society and which have made the Home Office into an island of inhumanity and incompetence. This is the first time that the government has been forced to account for these deliberate decisions. We hope it marks the start of a conversation about how we treat all those who seek to make a life here."