Adapted: for the Diabetic (and the would-be diabetic). Something for everyone – follow the links.
Making the switch from simple to complex carbs can help stabilize your blood sugar, rev weight loss, and prevent heart disease.
By Moira LawlerMedically Reviewed by Lynn Grieger, RDN, CDCES Reviewed: October 29, 2020
Scientists have long known that an important step in preventing and managing type 2 diabetes is replacing refined, simple sugars in the diet with more complex sources. One of the main reasons is that complex carbohydrates lead to better blood sugar management compared with refined grains, according to the American Heart Association (AHA). Refined grains, which can be found in foods including white rice and pasta, tend to result in surges in blood sugar, or glucose, shortly after eating — and energy crashes a little while later. On the other hand, complex carbohydrates such as whole grains (brown rice and whole-wheat pasta) take comparatively longer to digest, which results in a steady release of glucose into the bloodstream.
RELATED: Small Increase in Whole Grains, Fruits, and Veggies Cuts Type 2 Diabetes Risk
Why? In part, because whole grains are good sources of fiber, which helps slow the absorption of glucose, according to the Cleveland Clinic. "A simple carb, meaning no fiber, that's going to break down really fast and go right into the bloodstream," says Joelle Malinowski, RD, a certified diabetes care and education specialist with Ellis Medicine in Schenectady, New York. "Fiber takes more time to digest, so it slows down the digestion of the carbohydrate and gives you better blood sugar control during the day."
Most whole grains have a moderate glycemic load (GL), which measures a food's impact on rising blood sugar, with low being the least likely to lead to sudden spikes, according to Harvard Health Publishing. A GL of 20 and up is considered high, between 11 and 19 is considered medium, and 10 or less is low, per Oregon State University.
RELATED: How Do You Tell the Difference Between Good and Bad Carbohydrates?
Kimberly Rose-Francis, RDN, a certified diabetes care and education specialist based in Sebring, Florida, says whole grains can also help with weight control. Weight management is top of mind for people with type 2 diabetes since overweight and obesity increase the risk and makes the disease more difficult to manage. According to a review published in September 2018 in Nutrients, consuming 60 to 90 grams (g) of whole grains per day (or about two or three servings) was associated with a 21 to 32 percent risk of type 2 diabetes, compared with those who ate whole grains never or less frequently.
What's more, a diet filled with fibrous whole grains promotes a healthy heart, Malinowski says. According to a meta-analysis published in 2016 in The BMJ, whole-grain intake was associated with a decreased risk of cardiovascular disease. That's important because adults with type 2 diabetes are 2 to 4 times more likely to die of heart disease than adults without diabetes, according to the AHA.
Here, explore eight types of whole grains that could help with type 2 diabetes prevention and management. Rose-Francis recommends swapping them in for refined grains in your diet. When you're just starting out, be sure to monitor for signs of gastrointestinal distress and always talk with your doctor before making any major changes to your diet, Malinowski warns.
1 Brown Rice
Laura Adani/Stocksy
A study published in Archives of Internal Medicine showed that eating five or more servings of white rice each week led to an increased risk of diabetes. Conversely, consuming just two servings of brown rice each week led to a lower risk. And it's as easy as it sounds: The data indicated that replacing roughly one-third of a daily serving of white rice with brown rice would lead to a 16 percent reduction in overall type 2 diabetes risk.
Brown rice has a medium GL of 16, according to Oregon State University. A ½-cup serving has 39 g of carbs and is a good source of magnesium, with 60 milligrams (mg) for 14 percent of the daily value (DV) and 2 mg of niacin for 10 percent of the DV, according to the U.S. Department of Agriculture (USDA). Magnesium helps regulate muscles and nerve function, blood pressure, and blood sugar levels, making it a worthy choice for anyone managing diabetes as well, according to the National Institutes of Health (NIH), while niacin is a B vitamin that keeps the nervous system, digestive system, and skin healthy, according to the Mayo Clinic.
RELATED: Why You Might Need More Magnesium if You're Managing Type 2 Diabetes
2 Bulgur
iStock
Diabetes experts speculate that other whole grains such as bulgur wheat could play a similar role in the diabetes diet when eaten in place of simple, refined carbohydrates. In fact, the researchers behind the Archives of Internal Medicine study theorized that replacing white rice with whole grains could possibly lower the risk of diabetes by as much as 36 percent. A 1-cup serving of cooked bulgur is an excellent source of fiber, with 8.19 g for 32 percent of the DV, and has 33.8 g of carbs, according to the USDA. It has a medium GL of 12, according to Oregon State University.
3 Oats
Natasa Mandic/Stocksy
"Oats are a food that is high in fiber and hence can control blood sugar levels," Rose-Francis says. They're a popular whole-grain choice for someone managing diabetes because they're easy to include in your breakfast routine. According to the USDA, ½ cup of cooked oatmeal in the morning counts as the equivalent of 1 ounce of whole grains. That serving has 14 g of carbs and about 2.5 g of fiber for 9 percent of the DV, according to the USDA. A systematic review and meta-analysis published in December 2015 in Nutrients analyzed 14 controlled trials and two observational studies, and the authors concluded that oat intake significantly reduced A1C levels, fasting glucose levels, and cholesterol among people with diabetes.
Oats have a medium GL of 13, according to Oregon State University. Just go for steel-cut or rolled oats over instant if you can. "Instant ones are more processed, and the more processed, the less fiber there is," Malinowski says.
RELATED: The Best Oatmeal for People With Type 2 Diabetes
4 Buckwheat
Harald Walker/Stocksy
By choosing buckwheat flour instead of regular white flour for baking, you can get a big boost to your soluble fiber content, an important consideration in a diabetes diet. "One of the most important qualities of soluble fiber is its ability to help regulate blood glucose levels," says Steven Joyal, MD, author of What Your Doctor May Not Tell You About Diabetes and chief medical officer for the Life Extension Foundation based in Fort Lauderdale, Florida. "It slows the rate at which glucose is metabolized and absorbed from the intestines." A small study published in December 2016 in Open Access Macedonian Journal of Medical Sciences found that eating a breakfast with buckwheat improved glucose tolerance through lunchtime.
According to the USDA, ¼ cup of buckwheat flour — baked goods can be a great way to enjoy this whole grain — has 3 g of fiber for 11 percent of the DV, 1.44 mg of iron for 8 percent of the DV, and 22 g of carbs. Buckwheat has a medium GL, and a slice of buckwheat bread has a GL of 13, according to the University of Sydney
5 Farro
Jeff Wasserman/Stocksy
This ancient grain looks a lot like brown rice and has a nutty flavor, according to the Mayo Clinic. It can be prepared like risotto and is easy to add to stews, casseroles, and salads, according to Michigan State University Extension.
It's loaded with nutrients, including fiber, iron, protein, and magnesium. Iron promotes growth and development and helps the body make hemoglobin, which delivers oxygen to all parts of the body, according to the NIH.
A ½-cup serving of cooked farro has 7 g of fiber for 25 percent of the DV, 7 g of protein, and 37 g of carbs, per Bob's Red Mill. Erin Palinski-Wade, RD, a certified diabetes care and education specialist based in Sparta, New Jersey, says farro has a glycemic index of 45 and therefore has a medium GL of 13.5.
RELATED: 8 Healthy Carbs for People With Type 2 Diabetes
6 Quinoa
iStock
Quinoa, another versatile food that Webb recommends as a delicious side dish, may be new to your menu. Although quinoa is commonly thought of as a whole grain, it's actually a highly nutritious seed that is high in protein and fiber. A 1-cup serving of quinoa has 39 g of carbs, 5 g of fiber for 18 percent of the DV, and 8 g of protein, according to the USDA. Quinoa has a medium GL of 13, according to Oregon State University.
Dr. Joyal explains how fiber from quinoa and whole grains can help. "Fiber adds bulk to your diet, so it helps you feel full and more satisfied," he says. "You are less likely to overeat." And appetite control is important to keep you on a calorie-conscious diabetes diet. Try mixing quinoa into rice to help you get used to the taste, Malinowski says.
RELATED: More Evidence Suggests Whole Grains May Help Prevent Type 2 Diabetes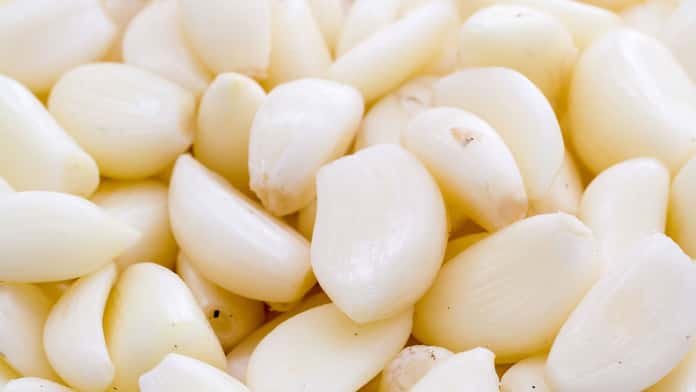 Minimalist Skin‑Care Routines: What Are Theyand Who Should Try Them? | Everyday Health
7 Wheat Berries
Cris Kelly/Alamy
Wheat berries are actually just whole, unprocessed kernels of wheat, and they're another tasty whole grain that Webb recommends for people on a diabetes diet. You can make all kinds of dishes with this versatile grain — cook them as a side dish, serve them for breakfast as you would oatmeal, and top with a sprinkling of nuts and berries, or toss them into your salads for a nutty accent.
Wheat berries have a medium GL of 11, according to Oregon State University, and a ¼-cup serving contains 33 g of carbohydrates and 5 g of fiber for about 18 percent of the DV, according to Bluebird Grain Farms.
8 Barley
Harald Walker/Stocksy
Fiber's also the main benefit of barley for people with type 2 diabetes. One cup of pearled, cooked barley features 6 g of fiber for about 21 percent of the DV and 44 g of carbs, per the USDA.
A study involving 20 participants that was published in September 2015 in the British Journal of Nutrition found that eating bread made of barley kernels for three days at breakfast, lunch, and dinner led to improvements with metabolism, insulin sensitivity, and appetite control as well as decreases in blood sugar and insulin levels. The researchers said the effects were due to barley's fiber content increasing the number of good bacteria in the gut and releasing helpful hormones.
Pearled barley has a medium GL of 12, according to Oregon State University.
https://www.everydayhealth.com/pictures/surprising-foods-little-impact-blood-sugar/
RELATED: 7 Healthy Meal Tips for Type 2 Diabetes
RELATED GALLERIES
https://www.everydayhealth.com/pictures/surprising-foods-little-impact-blood-sugar/
https://www.everydayhealth.com/type-2-diabetes/diet/best-foods-diabetes-summer/
https://www.everydayhealth.com/type-2-diabetes/symptoms/surprising-causes-of-blood-sugar-swings/
https://www.everydayhealth.com/type-2-diabetes/symptoms/warning-signs-of-type-2-diabetes/